About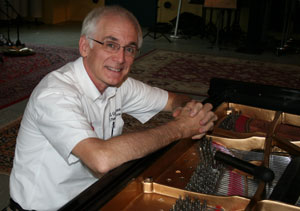 Russell G. Gallman is a CERTIFIED PIANO TECHNICIAN in Atlanta and graduate of the Piano Technology Program of the University of Western Ontario located in London, Ontario, Canada. In addition, he holds REGISTERED PIANO TECHNICIAN status with the Piano Technicians Guild. He is a native of the Atlanta area and a resident of Duluth in Gwinnett County since 1972.

Russell's passion for the instrument began at the age of fifteen. He began tuning while a Piano Performance Major at Clayton Junior College during his later teenage years. After an interesting Mozart recital in 1979, he completely stopped playing piano, and did not play again for 20 years. Following a significant work related injury in the late 1990s, he returned to his first love – the piano. At the same time, he began tuning again in 1999. With life experience and maturity under his belt, he began to investigate alternatives for professional development in piano technology. In 2006 he decided to take his technical skill sets and knowledge base to a professional level when he was accepted as 1 of 14 candidates to train in the highly intensive and internationally respected Piano Technology Program at UWO. Sadly the Piano Technology Program ceased operation at the end of the 2014-2015 season when his mentors retired. Russell trained as an ear tuner, and he finds the iPad app Tune Lab a useful tool. Computers enrich our lives in many ways; however, electronics will never be a stand alone replacement for the human ear.

Russell enjoys artistic endeavors and especially enjoys sitting down at the piano in the evenings to decompress and compose. Monthly interactions and fellowship with local piano technicians as sponsored by Atlanta Chapter 301 of the Piano Technician's Guild are particularly gratifying as well. However, utilizing his gifts and talents to enable artists, students and keyboard enthusiasts to explore their hearts through sound will always be his focus and passion.


Education and Training:

University of Western Ontario, Certified Piano Technician, 2006/2007.
Piano Technician's Guild, Registered Piano Technician 2015, Member since 2007.
Georgia Department of Education, T4 Teaching Certificate, German K-12, 1992-1996.
Georgia State University, Bachelor of Arts, German & International Business, 1982.
Clayton Junior College, Associate of Arts, Music & Piano Performance, 1980.
Duluth High School, 1977.

Professional Experiences:
Music Festivals for the Gwinnett County Music Teachers Association
Multiple Piano Venues
Music Schools & Programs
Residential, Educational and Churches

Personal Basics:

I believe in humans.
I believe in the inherent dignity and worth of human beings.
I try to not lose hope in humanity.
I believe in kindness.

I am a meditation person for a long time now.
I aspire to do no harm, to do good, and to use this precious life for the betterment of this world.
Proudly serving humans on their paths to live life to its fullest.