Regulation
Well Kept Secrets –
Nowadays, I generally refer this level of service to the 3 Artisan Technicians located on the Music Related Providers tab here on my website. Firstly, my biz model has come to focus predominantly on tuning, general repairs, humidity control, and piano detailing. That emphasis does not give me adequate time on task with regulation to achieve good utilities of scale. And as I have entered my 60s, it is physically more demanding and equally more challenging for aging eyes. Hence, I prefer to point this level of services to younger and very competent technicians.

Regulation and Voicing are THE two well kept secrets of piano care. All piano owners know that their instruments will need to be tuned, but rarely have they been exposed to the critical importance and necessity of these aspects of the Cycle of Improvement (Tune-Regulate-Voice).
Regulation –
So, what is regulation? In some regards the expression "to regulate" is a misnomer. When your technician tunes your piano, you know that he is adjusting the pitch. But the piano technician also engages in another type of tuning – regulation.

Pianos are manufactured with 5,000 to 10,000 parts. Each has its own unique function and yet each is woven into a web of intricate relationships much like a family. Hence, when your technician regulates the piano action he or she is aligning action components and timing inter-relationships so that each note on the piano can function at its optimal level. A properly regulated piano produces:

a keyboard that feels uniform from note to note
a keyboard that is responsive to rapid-fire fingerings and clean phrasings
a keyboard that commands a broad dynamic range
musical moments that do not resist the artist's efforts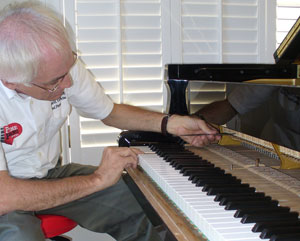 Footnote & Source Credit: The industry accepted standard goals of regulation are Evenness, Speed, Power, Comfort and Control. See Steve Brady's Under the Lid: The Art & Craft of the Concert Piano Technician, Byzantium Books, 2008, p. 77 for a through discussion on the subject. The ESP concept was first purported by George Defebaugh and Jim Coleman, Sr. References on their work were not available to the writer.
Regulation services are available from a simple annual touch up called A Full Day of Full Service to the full-scale reset known as A Thorough Regulation Job.
What is involved in a Thorough Grand Piano Regulation Job? -
A week long, Thorough Regulation Job may include some or all of the following:
Cleaning of the sound board, plate, tuning pin area, and the interior of the piano.
String Preparation - Solid wire strings cleaned as well as possible and all strings seated at the bridge.
Preparation of the Key Frame - Polishing of front rail & balance rail pins, polishing of capstans & glides; smoothing of the underside of the frame.
Preparation of the Keys - Key bushings re-sized with VF-Profelt; key tops cleaned and sides of black shaps darkened.
Key Frame Bedding - Mating the key frame to the key bed and the application of dry Teflon to reduce friction.
Key Leveling - All keys leveled to the proper height, set with proper dip, and properly squared & spaced.
Hammer Preparation - Hammers reshaped, traveled, squared, spaced and fitted to the strings.
Alignments - Strings to hammers; whippens to knuckles; jacks in windows; jacks to knuckles; replever height; back checks to hammers.
Main Regulation Sequence - Blow distance, let off, drop, back check, butterfly springs, and after touch set. Sequence refined on a second pass following after touch.
Tune - Pitch set to A440 (if possible)
Voiced - Build up tone; even out tone; reduce noises and mellow tone as necessary.
Regulate Back Action - Check damper lift off key sticks; check damper timing and lift off tray; adjust lost motion in damper pedal.
Regulate Shift/Soft Pedal
Regulate Sostenuto Function and Pedal
Exterior of Piano Surface Cleaned & Final Cleaning of Key Tops
What is not included in a Thorough Grand Piano Regulation Job? -
The replacement of felts - hammers, key bushings, felts and other cloth products - will not be provided.
The replacement of action components - shanks, knuckles, whippens, key tops and other action parts - will not be provided.
Polishing and repairs to the case work and finish of the piano will not be provided.
A Thorough Regulation Job is not action reconditioning and restoration.
What is the cost of a Thorough Grand Piano Regulation Job? -
To budget for this important level of piano care, allow a range of $1,800.00 to $3,000.00. This is a labor only estimate. It does not include the cost of parts, nor does it include the labor to install those parts. Also, this estimate is for local work and customers. It does not include out of town lodging, fuel and drive times, and per day food costs. A firm price will be provided after an initial site visit to assess the condition of the piano.
To implement the Thorough Regulation Job, Russell requests access to a Monday through Friday week. Why five days for the job on a 4-day quote? Some pianos go more smoothly than others. Some pianos are regularly cared for; whereas, others are ignored. Some manufacturers have more stringent quality controls; whereas, others are more lax about their attention to detail. And finally, Russell does not have an administrative assistant. He will take an occasional phone call to book tunings for the coming weeks. So, plan for at least a 6 day window to get this project completed.
For local customers, a courtesy visit will be scheduled to determine whether your piano is a good candidate for a Thorough Regulation Job. Feel free to email or call Russell with your questions.
What is a 2-Day Spiff Job?
Not all pianos require the intensity of a Thorough Regulation Job. Be sure to ask Russell if your piano would be a good candidate for a 2-Day Spiff Job. During a 2-Day visit, Russell will dial in the basics to refine your piano's feel and response. The 2-Day Job ranges in cost from $1,200.00 to $1,400.00 depending upon the level of detail that will be tweaked and refined during a Cycle of Improvement - Tune, Regulate, & Voice.